Peacock box
Finest Belgian chocolate without sugar, in the shape of  peacock. Assortment of dark and milk chocolate.
Reference:
#SIN AZÚCAR: Caja Pavo
PEACOCK BOX
This box contains sugar-free chocolate peacocks taht will make you feel as cool as them. Assortment of milk and dark chocolate.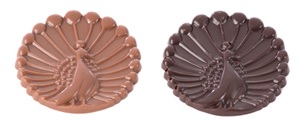 300g.
It's presented in a box.
Suitable for DIABETICS.
No customer reviews for the moment.